STIGMATIZED PRODUCTIONS
Stigmatized Drummer v1.1 Full Pack For Kontakt*

contains 6 Stigmatized Drummer groove packs plus 2 TCI Packs for Slate Trigger
(*full version of Kontakt required)
Sale Ends 29th January
STIGMATIZED DRUMMER is a HI-END METAL oriented Drumming Library.
Recorded to an exhaustive detail it provides the real deal. After trying and testing every possible setup, mic placement, and tuning the results are phenomenal.
Real organic, full cracking and just "in your face" sound.
Every Drum piece is recorded both left and right hand and with up to 60 velocity layers the quality is unparalleled.
Using the industry standard of the Highest Sampling technology the powerfull KONTAKT 5 engine and it's build in quality effects you have access to a whole Studio.
Advanced Scripting gives you the right tools to control everything in a top notch designed interface.
Selecting some of the 1500+ "focused" grooves, drag'n'drop in your DAW, using all these tools, effects, our top sophisticated SPLIT technology, the 16 track flexible MIXER and the MATRIX ROUTER, the ultimate weapon in terms of full control on every internall buss of STIGMATIZED DRUMMER, creating the perfect Drumtrack has never been so easy.
This deal also contains 6 groove packs plus 2 TCI Packs for Slate Trigger.
Still not convinced? Do yourself a favour and click here to download the fully featured free trial of Stigmatized Drummer!
STIGMATIZED DRUMMER* is a must for EXTREME DRUMMING.
Although it's "mix ready", meaning that you simply Load it and you are ready to go, it has a lot of headroom for adjustments and creating your own tones.
Finally it can act perfect in a lot of other genres (Heavy Rock, Hard rock, Pop, Edgy Pop etc) because it comes in 3 versions...  
STIGMATIZED XTREME: Processed METAL oriended "mix ready" version.
STIGMATIZED CLASSIC: Processed (ROCK, POP) oriended "mix ready" version.
STIGMATIZED RAW: A really raw version,a producers choice, 100% as recorded giving the possibility to start from scratch.
Using all these features the possibilities are endless...
ONLY YOU CAN SET THE LIMITS !
Full automation added almost on all buttons,sliders faders etc. following many users and customer suggestions…so you can now assign and control any of them using your midi keyboard or midi controller.
There is Visual representation of values on all buttons,sliders faders etc.
12 drum maps in the factory presets…(there is a drum map for almost every major drumming software.)
You can convert any groove of Stigmatized Drummer to match any of these drumming softwares very easily using the factory drum map presets. Simply we go to Options page change the drum map preset to this particular drumming software and drag'n'drop to your DAW. Now the groove is ready to play with it.
Independent Velocity Control
In addition to global velocity control on the Grooves page and to the 4 velocity variations on the Options page
We added Independent Velocity control for every drum piece on the KIT page. Very useful if you want to change velocity behavior on a particular element Independently. Very useful for Electronic kit users also.
More Realism
Advanced round robins and left right hand alternates added supported by intelligent scripting and based on current speed.
Intelligent "Cymbal Tempo" and "Cymbal Roll" technology supported by advanced scripting and based on velocity and speed.
At certain amounts of velocity and speed the initial attack is altered in a way that the cymbal sound gets softer as it happens in the real world.
TCI Packs-Drum Replacement
We created 2 huge TCI packs for Slate Trigger...Stigmatized XTREME TCI Pack(62 Tci's)... and Stigmatized CLASSIC TCI Pack(62 Tci's).
Every tci pack contains (7 kick tci's..one for every inernall kick bus with round robins,9 snare left ,9 snare right with their round robins and 9 right left alternates for perfection during drum fills, and 7 right left alternates with round robins for tomms(1,2,3) and floor. Total size : 2.5 Gb. It will cover every Studio need for Drum replacement or Sample blending.
 
All tci's are contained in the full pack of Stigmatized Drummer…so with the purchase of Stigmatized Drummer you get the tci's.
We created 6 different groove packs divided in different music genres.

The groove packs are:
Stigmatized Drummer GROOVES-VOL 1-FULL METAL PACK - containing 500+ grooves
Stigmatized Drummer GROOVES-VOL 2-HC PUNK PACK - containing 200+ grooves
Stigmatized Drummer GROOVES-VOL 3-ROCK PACK - containing 200+ grooves
Stigmatized Drummer GROOVES-VOL 4-POP PACK - containing 200+ grooves
Stigmatized Drummer GROOVES-VOL 5-GREEK ETHNIC PACK - containing 360+ grooves
*Stigmatized Drummer is a Kontakt based Library and it requires the full version of Kontakt.
Groove Pack Vol 1 - Full Metal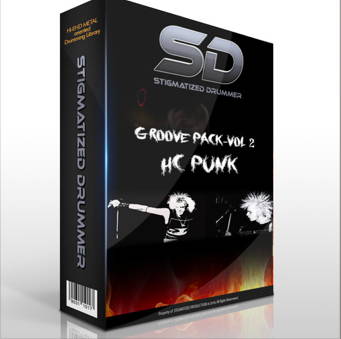 Groove Pack Vol 2 - HC Punk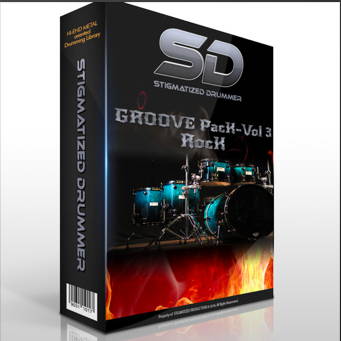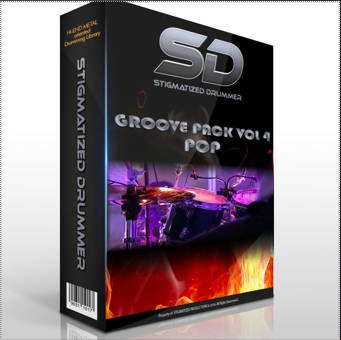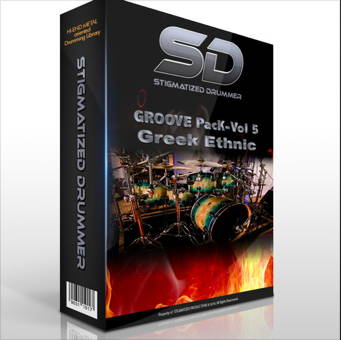 Groove Pack Vol 5 - Greek Ethnic
---